In the New York Times, Claire Cain Miller has a piece about marriage trends that she ends as such:
Mr. Wilcox suggests a bigger emphasis in high schools and pop culture on what's known as the success sequence: degree, job, marriage, baby. "The idea is that if people follow that sequence, their odds of landing in poverty are much lower," he said.
Friend of the tank Brad Wilcox also pushed out his newest Success Sequence report again on Twitter.
97% of Millennials who followed the "success sequence"-educ, work, marriage, parenthood, in that order-are not poor https://t.co/EzQdRgPHSV pic.twitter.com/eI0WXD7qfB

— W Bradford Wilcox (@WilcoxNMP) September 28, 2017
After the publication of this post, Wilcox deleted his tweet. But it contained a graphic purporting to show that only 3 percent of Millennials aged 28-34 who followed the "success sequence" (as Caine describes it "degree, job, marriage, baby") are in poverty.
I have written once before at 3P about the Success Sequence, but just for fun I thought I would pull a little factoid from the new Census data released earlier this month.
In the below graph, you see the poverty rate for all people ages 28-34 and the poverty rate for all 28-34 full-time workers (ages 28-34 are the ones Wilcox uses in his report). Full-time work is defined as those who worked 50 or more weeks during the year (vacation and sick days are counted as work weeks) and who worked 35 or more hours per week.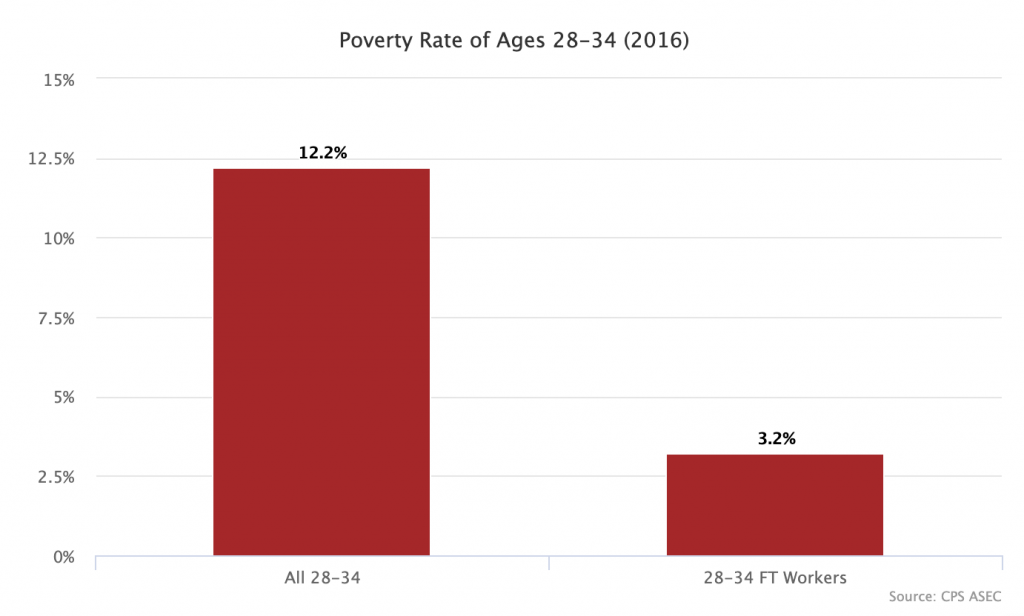 Brad Wilcox says that his Success Sequence delivers a 3 percent poverty rate. Yet full-time work delivers that by itself. It seems that, despite the hundreds of thousands of dollars spent on Success Sequence writing, the concept remains completely pointless.
Success Sequence writers, realizing that full-time workers are rarely in poverty, end up advocating that "full-time work plus their cultural preferences" will get you out of poverty. This is technically true, but only because full-time work plus anything will get you out of poverty.
Some full-time workers are in poverty of course. But, as I noted recently, poverty is overwhelmingly a condition that afflicts non-workers: children, elderly, disabled, students, caregivers, and the unemployed.